Benefit of correct cultivar
Sowing cheap seed, or seed of questionable origin, risks large losses in income. In these examples $272/ha is saved at sowing but $2802/ha is potentially lost in a breeding enterprise, or $2193/ha in lamb finishing profit over the next five years.
Two examples
We compare Trojan with NEA2 endophyte (AGRICOTE treated), versus Nui, over five years. The first example runs more ewes; the second finishes lambs faster. Trojan
is assumed to yield 3 t DM/ha more than Nui, which is conservative based on trial information. Production annually is estimated to drop 5%; (Nui would likely have a greater drop due to its poor persistence). This comparison does not include the advantage of Trojan's better seasonal growth pattern.
Breeding ewe eample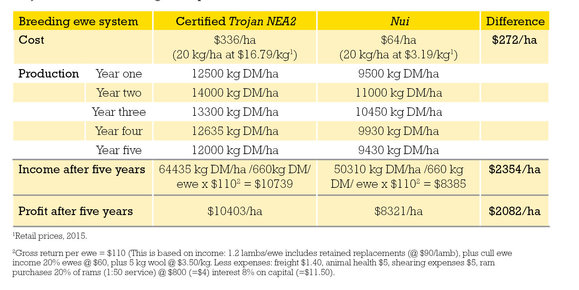 Lamb finishing system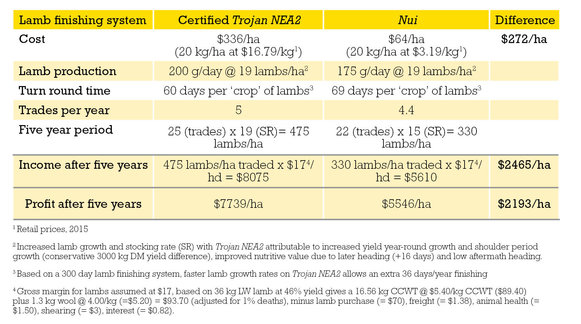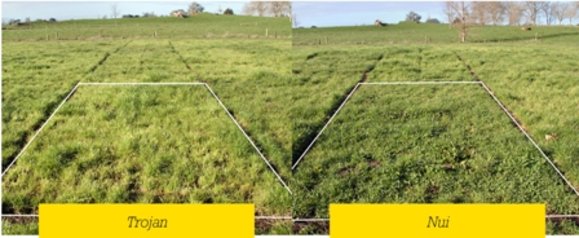 Trojan (left) showing much better persistence than Nui (right) under dryland sheep grazing at Mt Possession, Canterbury. Both plots were managed identically, and sown 31st October 2005. The photos were taken January 2009.