Governor combines genetics from two of Agriseeds' most popular previous cultivars to set a new standard for an all-round persistent perennial ryegrass. With outstanding survival and excellent DM yield on the shoulders of the season, Governor is an early heading ryegrass which delivers feed when it's needed most.
Genetic legacy
Barenbrug Agriseeds has produced a number of superior ryegrass cultivars over the years and two of them – Bronsyn and Tolosa - have been crossed and selected to create this new cultivar. The persistence of Bronsyn, with the high DM yield and palatability of Tolosa, make Governor ideal for sheep and beef systems.
Persistent
Governor has shown outstanding survival through drought and high insect pressure under grazing on farm trials across the country. Fine, densely tillered and diploid, it will become the premium cultivar of choice for persistence. It is available with AR37 for areas with black beetle and higher insect pressure, and is also available with AR1 endophyte for parts of the lower North Island and the South Island. AR37 is not recommended for deer or horses because it can cause severe ryegrass staggers.
Seasonal growth
A key feature is Governor's ability to grow more DM on the shoulders of the season, in early spring and autumn, when it is most needed.
All rounder
With a +5 days heading date, low aftermath heading (similar to Alto) and better rust resistance than its parents, Governor is a reliable, persistent all-rounder.
Where to sow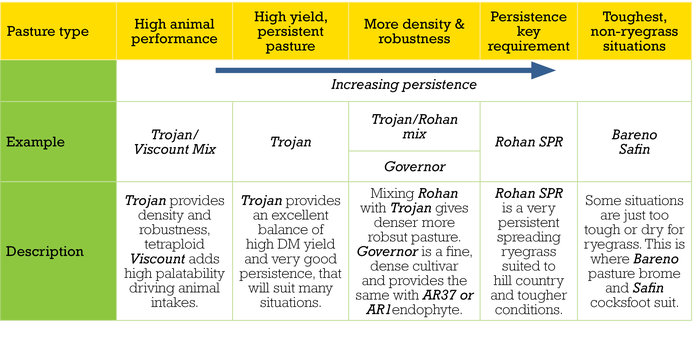 Suggested seed mix