Two special pasture mixes for Southland seed winner
Back in September Agriseeds ran a competition in conjunction with the NZ Farming Facebook page in which we gave one lucky winner $1000 worth of pasture seed.
NZ Farming aims to be the country's most comprehensive agricultural Facebook page. Whether it be news, views, photos or employment vacancies, you will see it here first!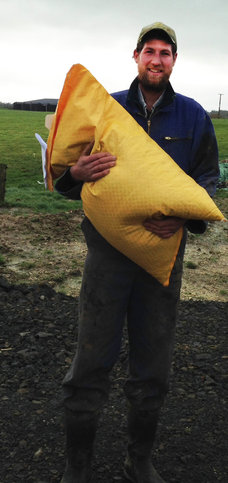 We got a great response to the competition, with nearly 300 entrants, and together with NZ Farming, Agriseeds is now super proud to bring you more details about our winner, Southlander Maarten Van Rossum.

Maarten 50/50 sharemilks 318 ha at Kapuka, west of Invercargill and also has a stake in the home farm nearby at Mokotua.
Our lower South Island area manager Riley Cooper and southern agronomist Janet Montgomery recently called in to visit Maarten along with Agriseeds' pasture systems expert Graham Kerr.
We wanted to sit down with him, find out more about his plans and goals for the farm, and see how we could help him achieve some of those through maximising his pastures.
Last but not least – we really wanted to see what he wanted to spend that $1000 seed voucher on!
What we found was one very on to it, motivated young guy. Maarten grew up on the family farm before going on to sharemilk the Kapuka property, which peak milks 880 cows.
Kapuka is notorious for its heavy, wet soils and Maarten works hard on managing for this. The farm is also in the Waituna lagoon catchment area, so careful nutrient management is essential.
This year the property has been upgraded with a new feed pad along with an effluent pond and weeping wall effluent system. Maarten's family has had success with a similar feed pad at the home farm.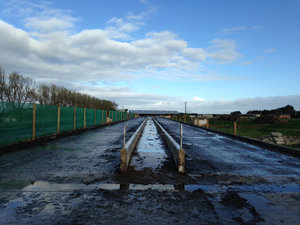 Maarten places huge emphasis on minimising winter damage, which is saving his pasture and his soils. He also keeps a very close eye on pasture cover and residuals.
His goal is to renew 10% of the farm each year and he is very keen on keeping pasture quality high. Maarten is nailing his pasture management which is great to see.
Because the area can be so wet, and soils are heavy, he only uses diploid ryegrasses for new pastures on the farm. Diploids can stand up to treading in wet conditions better than tetraploid ryegrasses.
For this reason, we decided to trial two different pasture mixes with Maarten for his $1000 seed prize.
The first mix is Trojan perennial ryegrass with Kotare and Weka white clovers. Trojan is NZ's best selling perennial ryegrass and is in the top group of the Dairy NZ Forage Value Index (FVI) for perennial ryegrasses. Kotare and Weka are also stars when it comes to white clover.
The second pasture mix we have organised for Maarten is Rohan SPR and Trojan, with the same white clovers.
Rohan is another diploid, and is a spreading perennial ryegrass with a unique ability to cover the ground. It is very dense, with fine leaves, and all these features give it better persistence than some other ryegrasses.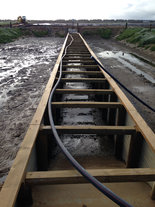 These new mixes are going into the ground on Maarten's farm as soon as ground conditions allow, and we can't wait to see how they go.
We'll be following his success along the way and we hope you enjoy following his story too. Keep an eye on the Agriseeds and NZ Farming Facebook pages for updates in the near future. And keep an eye out for more joint competitions between Agriseeds and NZ Farming too!