Latest from Grass into Gold: Pasture covers on the rise for Hayden Cartright after long dry spell.
Timaru 29 April: Pasture covers have started to increase on Hayden's South Canterbury dairy farm, with the most recent average reaching 2280 kg DM/ha, and that's a welcome change after a long and challenging dry spell.
Daily production from 750 cows on OAD milking is 1.2 kg MS/cow, with a diet of 10-11 kg DM/day pasture, 3 kg cereal silage and about 2 kg PK. The grazing round has tightened up to 48 days as growth rates have improved.
Hayden's aiming to milk through to late May with dry-off targets of 1950 kg DM/ha covers and 4.5 cow BCS.
At this stage winter feed crops continue to look pretty good, with dryland fodder beet having grown surprisingly well.
Hayden has upgraded his irrigation system this season which will allow better use of available water which is expected to significantly improve pasture growth during summer months
Lack of water during this past season has seen farm working expenses go from a budget of $3.50/kg MS before interest to $4.50-$4.60.
Overall total costs are actually down, because Hayden has spent less on nitrogen and power for irrigation, but this has been outweighed by the drop in MS production after irrigation was cut by half in December then turned off completely in late February.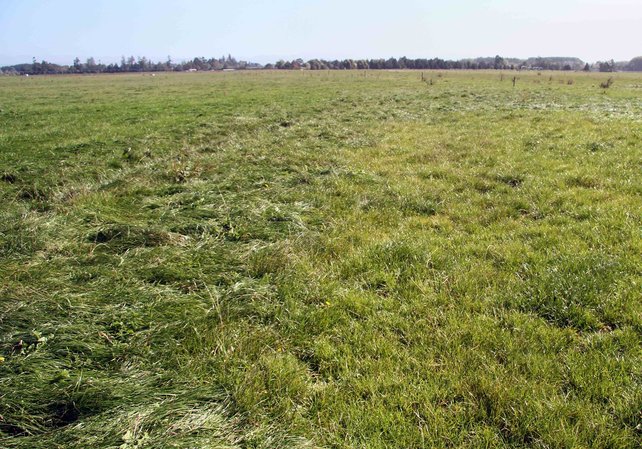 Bealey paddock with a circle of heavy cover (>4000) on the left, and a circle of around 2000 cover on the right. Irrigation has been the same (limited) over the summer, but this comes from a leaking sprinkler, saturating the soil back in spring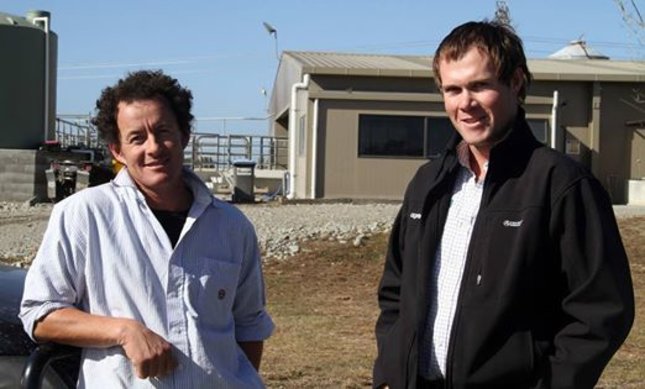 Hayden with Agriseeds agronomist, Alan Harvey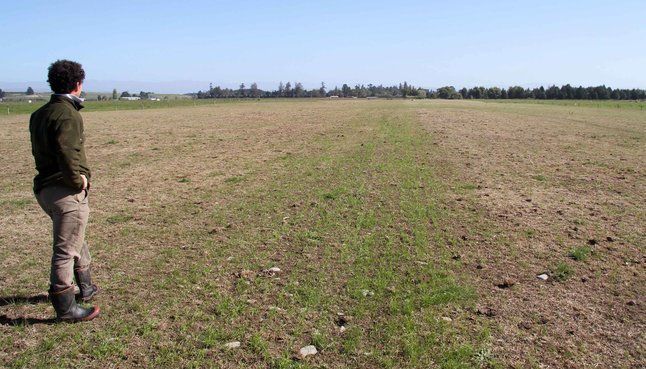 A Shogun paddock sown 1 March that is struggling to establish in the dry. Of interest is the green strip in the middle which is a double sowing rate of 50 kg/ha (versus 25 kg/ha in rest of paddock) where the drill overlapped. It shows the advantage of a high sowing rate in adverse conditions