Late flowering Invitation
Invitation swede has been in the market for seven years now, with no unusual stock health issues reported.
One of the reasons for this? It's very late flowering. Have a look at the table below to see how much difference there is between it and other cultivars in flowering date.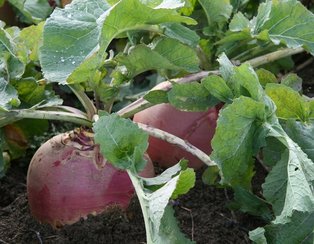 Invitation swede
Because of this, Invitation gives farmers good feed quality in early spring, with fewer potential glucosinolate issues, as glucosinolate levels rise with flowering.
We've measured flowering scores over two springs for nine commonly sown swede cultivars, and Invitation has the latest flowering in those trials.
Quite apart from this, it is an excellent winter feed crop combining an ideal balance of characteristics.
With high bulb and leaf DM yields, Invitation is a yellow fleshed swede that has excellent bulb and leaf keeping ability.
It has good club root and powdery mildew resistance. And it has good tolerance to dry rot, although it is not recommended as a second crop.
Swede flowering scores (Winton 15 September 2009 & Gore 10 August 2013)*
Entry

Trials

Flowering score

Invitation

2

7.2

a

Major Plus

2

6.7

ab

Keystone

2

6.5

ab

Domain

1

6.5

ab

Highlander

1

5.4

bc

Dominion

2

4.8

c

HT Swede

1

3.4

d

Aparima Gold

2

3.1

d

Winton

1

2.1

d

Trial Mean

6.1

LSD (5%)

1.2
* Average two trials. Scored on a 1 - 9 basis. Where 1 = full flowering swede crop, 4 = stem elongation, green seed head appeared, 7, small degree of elongaton, 9 = no sign of stem elongation. Statistical significance lettering is given, cultivars with the same letter are not significantly different at the LSD 5% level.