Kathy Craw's doing her 2015/16 budget; new grass remains an essential despite payout.
Marton 22 May: Pasture renewal, drainage and broadleaf herbicide for buttercup control remain farm budget essentials for 2015/16 while Kathy Craw and Logan Bowler put other capital purchases on hold.
They're currently doing next season's sums for their 88 ha eff System 2-System 3 farm on a predicted payout of $5/kg MS and would like to keep working expenses as close as possible to this year's $3.57/kg. Kathy says this will probably mean another delay in planned race and water upgrades, which have already been put off once, but pasture improvement will definitely continue.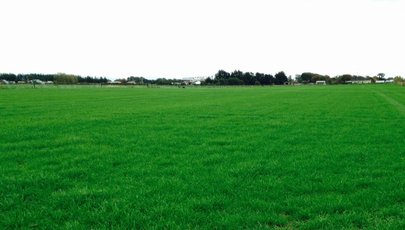 Over 40% of the farm has been upgraded to new pasture in the past two seasons, and combined with thousands of dollars' worth of mole drains this has made a massive difference to their productivity since buying the property in 2012.
Conservative budgeting and forecasting has served them well up until now, and will continue, at least until they've been on the farm long enough to have a better idea of its potential, Kathy says. They've finished up 10,000 kg MS over budget for 2015 with a total of 94,700 kg, and while they're hoping to do over 90,000 again in 2016, they're budgeting on 88,000 kg from 215 cows.
A much higher proportion of these will be first calvers, however, Kathy says.
"We have 56 heifers coming into the herd as R2s this season, they're the first of the ones we've bred ourselves and they've come back from grazing in really good nick, so it will be interesting to see how they perform. Last year we bought in 30 heifers and they weren't in quite as good condition when they arrived."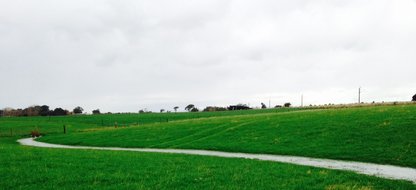 Eleven ha of new pasture sown late March and early April has established well, with all but one of five paddocks having had a nip off graze and a broadleaf herbicide to control weeds. The wind direction was wrong for spraying the fifth paddock on the day the contractor visited, and that was followed by three weeks of rain but Kathy says it will definitely still be done as the buttercup is coming through strongly.
Two paddocks which were direct drilled – one of Trojan and one of Shogun – were fertilised with SustaiN and Sulphur Gain in late April, and urea is scheduled for application on to the other four new pasture paddocks.
Local Agriseeds agronomist Laura Oughton says the paddocks look 'fantastic' having received their first grazing at the right time, but there is a lack of clover, and more seed will be broadcast in spring.
Kathy says while they are overstocked at the moment, with 55 lease cows due to go home 1 June, she's happy with the way they're set up for wintering 215 cows plus 22 empties she bought in.
"We have 30 t of maize and about 50 t of grass silage, and we've got a feed pad and the wintering barn, which we will use for feeding out. All the cows are getting hay and grass and are on an 80 day round until those lease cows go home, after which they will probably stay on that round most of the winter."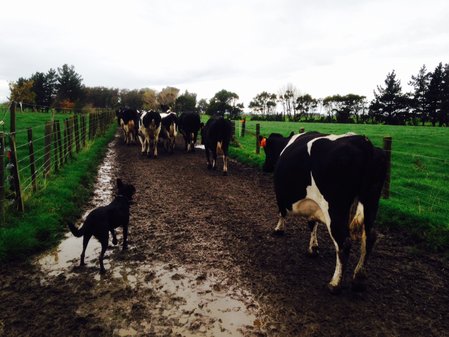 This time last year the pair were very short of feed after a late-breaking drought, and covers never really recovered but it's a different story 12 months on. "We're in a way better position this year. That new pasture we planted autumn 2014 struggled with a late sowing date but now it has really come on stream. Looking back we would have been lucky this time last year if we had 18-1900 kg DM/ha cover; at the latest walk average farm cover was just under 2300 kg so it's a big difference."
At dry off all cows were Teatsealed and anything with a SCC over 100,000 was treated with dry cow therapy, the potency of the treatment depending on the SCC. Cows are in pretty good condition with an average BCS of 4.5 and target calving scores of 5 for mixed age cows and 5.5 for heifers.
Heifers will be Teatsealed in July. Teatseal is used to prevent udder infection while the herd is in in the wintering shed.