Grass into Gold: Spring sown pastures growing well in South Canterbury
Timaru 4 December: Cutting his stocking rate from 3.8 to 3.4 cows/ha has given Hayden Cartright the opportunity to catch up on pasture renewal this spring, with 26 ha or 10% of the milking platform sown grass to grass in new Italian, hybrid and perennial pastures.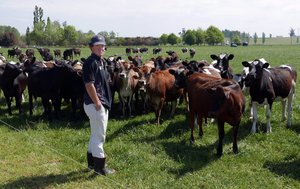 Hayden & his yearlings at the runoff.
Hayden's planning to renew a further 25-35 ha this year and says the total area of new pasture will make up for two years where he hasn't been able to do as much renewal as he would have liked, not least because of the weather.
"Last year with the drought and 50% irrigation restrictions in December we weren't able to do much in the way of new grass at all."
New Italian pastures have been sown to allow grass weeds to be cleaned up ahead of new perennial pastures next spring, while 6 ha has been sown in Shogun tetraploid hybrid ryegrass after a previous paddock performed well especially through the cooler months of the year, he says. A further 3 ha has been sown in perennial pasture this spring.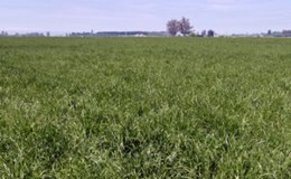 "It's all looking really good. We started grazing it last week."
Pasture growth in general has been up and down since winter, which was hard and cold. "We were really tight through August, then temperatures warmed up in September; we had some great growth then it got cold in again through October, so it's been stop/start."
A year old paddock of Shogun that's grown
fantastically - this photo is 7 days after grazing!
Current growth rates are 65-75 kg DM/ha/day with an average farm cover of 2350 kg DM/ha. Hayden attributes this to better irrigation efficiency and the effect of new pasture. With 30% irrigation restrictions effective 1 December, he feels the farm's cover is about right for this time of year.
Currently 860 cows are in milk. They're on grass only, and doing 1.95 kg MS/head/day. A small amount of palm kernel is contracted forward for March to coincide with lengthening our grazing round; if feed gets tight before then because of lack of water or rain, Hayden will cull cows early and look at buying PK on the spot market.
"We also have a paddock of fodder beet on the platform, close to the shed. With the lower stocking rate and the prediction of a dry season, we decided we would try it this year. It was sown 20 October and it's looking pretty good. Our plan is to graze it in late April and May."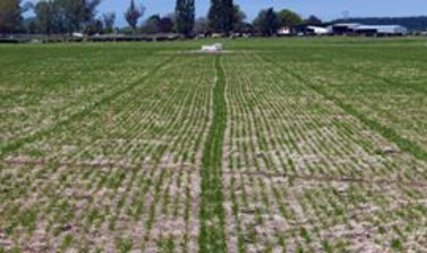 Tabu spray-drilled 4 weeks ago. Note where double sowing rate (drill overlaps) it's ready for grazing. Herd going to milking in the background.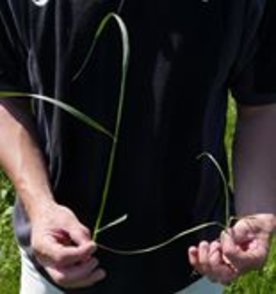 One of new perennial paddocks is very hungry for N. picked a tiller from within & between urine patches. same leaf stage (just over 2 leaves/tiller) but look at the leaf size difference!