Grass into Gold - Seasonal update: Paul Awaikera, Totara Flat
Totara Flat 24 April: Pasture growth has been above expectation for Paul on the West Coast this autumn, and as a result he's been able to milk through March and most of April feeding grass only.
Kind weather has made a difference, but so too has 24 ha of new pasture which went in earlier in the season. All of these paddocks have been fully grazed by the milkers at least once up until now, as well as being lightly grazed in early establishment to accelerate growth and tillering.
Paul's still milking 250 cows, with approximately 15 left to be culled out of the herd for a final wintering total of 235 plus his new R2s.
Currently the herd is producing 1.3 kg MS/cow/day and production remains on track for this season's target total of 110,000 kg MS.
Paul was due to start OAD milking the day after we spoke to him for this update, and says he will also start supplementing with PK at about 2 kg/cow/day, both steps aimed at building cow condition. The average BCS for the herd is between 3.5 and 4 and he wants them up to 5 by the start of calving.
"We had PK contracted for March, April and May but because we haven't fed any of it up until now, we will be able to use a bit during the dry period."
Weather conditions have been 'awesome' with average pasture covers across the farm sitting at 2400-2500 kg DM/ha as of the most recent reading on April 21, and growth has only just slowed in the wake of the first southerly of the season.
"We were getting up to 66 kg DM/ha/day but for the latest farm walk we grew 49 kg DM, so it's the first time it's dropped back. However, that's still more than we would normally expect at this time of the year."
The herd was scanned late March for an average empty rate of about 8%, which he says is fairly typical for them.
R2 heifers are due home in the next week and will be wintered on farm with the cows. With swede crops continuing to look very good, Paul says he's happy with how much feed is available for the next few months.
As for the new paddocks, he plans to take extra good care of those through winter. "I try not to damage paddocks anyway, but with these being so new, we'll be very careful."
Meantime he's busy with an annual chore - spraying all paddocks for porina, which can cause real issues if not controlled in autumn.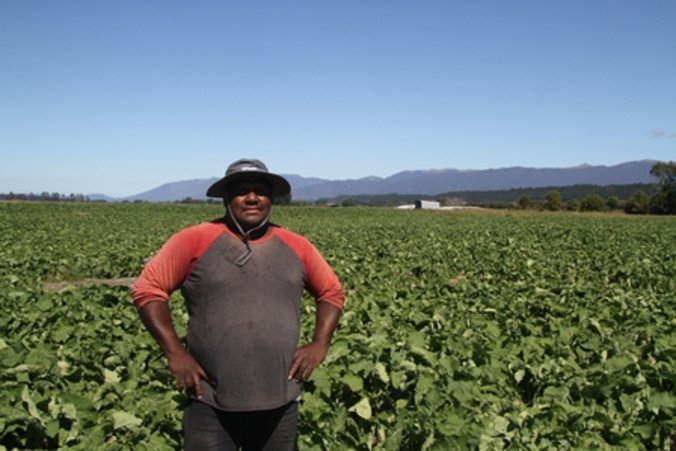 Paul in his kale crop