Grass into Gold - Seasonal update: Joy Thomas, Reporoa
Reporoa 18 March: Twelve ha of new pasture should be in the ground by this weekend on Joy and Deverel Thomas' Central Plateau farm, thanks to recent rain.
"I would have liked to have it in a bit earlier but it's been so dry I didn't want to work paddocks up then have them blow away," Joy says.
Twelve ha out of the 136 ha eff milking platform will be the most new pasture the Thomases have had in one season, and Joy's been careful to pick paddocks that will show the best response, plate metering to find those that are the poorest performing.
Return times for these paddocks were 7-10 days longer than the best growing paddocks on the farm. For renewal, Joy also picked two other paddocks which were obviously unpalatable to the cows.
Each new grass paddock was soil tested to check fertility requirements, and new drainage has been installed on 3 ha which was known to be wet and prone to pugging, so that new pasture is not affected by problems which helped the old grass run out.
All seed has been treated, and on Agriseeds agronomist Will Henson's recommendation, different ryegrass cultivars have been selected for different paddocks, including a Trojan/Bealey mix for the better paddocks and Rohan spreading ryegrass for the harder ones.
At the time of this update Joy had 370 cows in milk, down from a peak of 410. All culls were sent off a bit earlier than normal to ease pressure on the System 1 farm, although the Thomases have not been as affected by dry weather as farmers in other districts.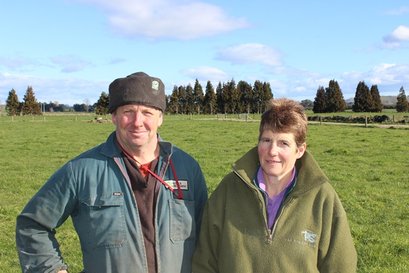 This is their second year milking OAD, and currently average daily production on pasture plus a bit of grass silage is 1.2 kg MS/cow which is in line with expectation. Annual production is still 8% ahead of last year even though Joy peak milked 20 fewer cows this season, and she says there are two main reasons for that increase.
"Some of it can be attributed to having better quality pastures in later spring and early summer, and some of it to a good 6WIC rate (80%)."
Joy put more effort into maintaining pasture quality this season, tightening up her round by 1-2 days, doing more topping than normal, making baleage and bringing heifers home from the run-off to clean up behind the cows.
"Last season in our first year on OAD we found it can be quite hard to keep paddocks tidy, because you're not shifting the cows as often. This season, back in late spring, I also started giving them a break in the morning and shifting them in the afternoon, and it made a big difference to the farm, and the cows."
At this stage Joy's hoping to milk through to mid May but it will depend on pasture growth rates. Current average farm cover is 2000 kg DM/ha but it's important to bank as much feed as possible from now on because autumn conditions can soon turn quite cold on the Central Plateau.
The herd has just been condition scored at an average BCS of 4.7 by a local consultant, which is good news for wintering on the run-off. "I'll try and put a bit more condition on them before dry off but at least I know over winter I won't have to really fatten them up as well as keeping them well fed."