Grass into Gold: Near-record production on all-grass with fewer cows for Joy Thomas, Reporoa.
Reporoa 8 May: New pastures are looking 'great' on the Central Plateau farm Joy farms with husband Deverel and are nearly ready for their first light nip-off with calves.
The 12 ha of new pasture sown earlier in autumn was the most the Thomas' have ever done in one go, and equates to 8-9% of their milking land area, so should make a big difference to total DM production in the coming season.
Joy's been careful to do things right in getting the new paddocks well established, and that included hiring a contractor to spray them for broadleaf weeds (using Preside/Select) prior to the first grazing.
In their damper areas, buttercup has been a problem with new pastures and previously they have used topping as a tool to control the weed, with mixed results.
This is the first time they've included a herbicide treatment in their pasture establishment programme, and Joy says she's looking forward to seeing the difference.
Overall it's been a good season for this System 1 farm and Joy is happy with their results. Not only did they exceed last year's production of 122,600 kg MS on April 6, they're now close to best-ever production for the eight years they've been on the farm, and that's with 10 fewer cows, a 6WIC rate of 82% and FWE of $2.90/kg MS. Plus the cows have just been scored again at 4.7 BCS.
Joy says the only niggle is a slightly higher empty rate that she would normally expect or like (8.5% vs 6-7% average).
At this stage she's still aiming to dry off 18-19 May, with 260 cows still in milk. She'll keep the cows on the home farm as long as possible after drying off, for up to 15-16 days, before shifting them to the adjoining run-off for winter. This is standard policy to keep calving cows off the wetter parts of the milking platform during early spring, minimising pastures damage.
Average farm cover is currently 2100 kg DM/ha with relatively good growth rates and recent weather conditions the mildest that the Thomas' have yet experienced on this farm. "We've only had two frosts so far," Joy says. "It's quite remarkable. I'd be happy for this to carry on right through winter!"
The only major spending that has gone on hold as a result of the reduced payout is planned purchase of younger cows to lift herd numbers. Joy says some smaller jobs on the farm may not get done either this season. "Because we're all grass-based there is not a hell of a lot else we can cut, but we're not under a lot of pressure either."
Her approach to dry off management remains unchanged – all cows are blanket treated with dry cow therapy. "It's not worth taking the risk (of spring mastitis) and we do have some high cell count cows."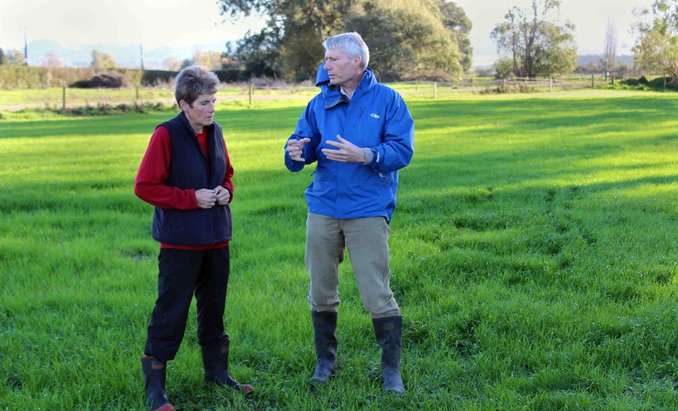 Joy and Graham Kerr in a new Trojan ryegrass paddock.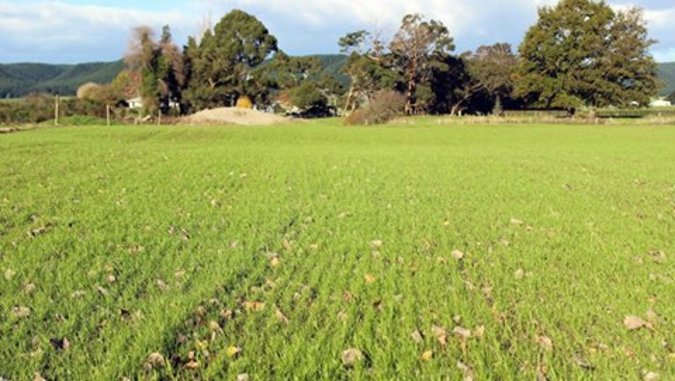 Picture of a new Rohan SPR - which Joy is trying as this is a tough environment, and this is a tough ryegrass!