Grass into Gold: Focus on feed quality puts more in the vat
Both milk solids yield and cow condition have benefited from improved feed quality on the 330 ha property Cameron Woodhouse contract milks in the Wairarapa.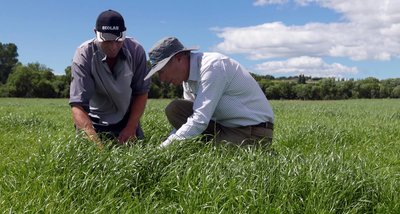 His goal this lactation has been to get 200 MJ ME into every cow, every day, and with approximately 1050 cows in three herds to look after, that has meant spending significantly more time and effort on pasture management.
Putting cows into paddocks at the right pre-grazing covers, grazing down to good residuals and doing quite a bit more topping have all contributed to a continued 9% lift in MS production over last season.
Currently the herds are averaging approximately 1.4 kg MS/cow/day, on a diet pasture plus 4 kg/cow/day turnips and 2 kg grass silage. Greenfeed maize has again been sown for summer supplement, and the first of these crops will be chopped for feeding out in the next week or so. Cow condition is good.
Average farm pasture cover is 2200 kg DM/ha and daily pasture growth under irrigation is about 50 kg DM/ha, Cameron says.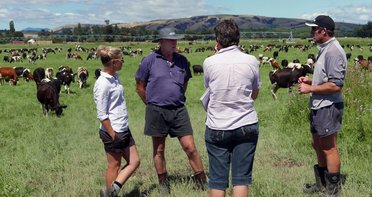 Regular rain in the catchment for their irrigation system has ensured steady water supply throughout summer and this combined with getting summer crops in early ahead of the predicted severe El Nino means there is ample feed for autumn.
Irrigated Barkant turnips have yielded up to 15 t DM/ha, and the crops were advanced enough after early sowing to start grazing in December instead of January.
Ten ha of grazed turnip land was due to be sown this week; new perennial pastures will comprise 15 ha of Trojan ryegrass plus another 15 ha of Trojan/Bealey mix. White clovers are Kotare and Weka.
The farm owner has his own drill and can sow as soon as conditions are right, with most paddocks cultivated rather than direct drilled.
Six ha spray-drilled with Italian ryegrass in spring has since produced 'phenomenal' pasture yield and ME; this has been an experiment to look at ways of improving pasture productivity under pivot, after a paddock growth analysis for the whole farm last October showed some irrigated paddocks were only growing 7-8 t DM/ha/year.
Local Agriseeds agronomist Laura Oughton says much of this underperformance is species -related – as well as old sheep-type ryegrass, unimproved paddocks contain lower value species such as goose grass, cocksfoot, Yorkshire fog and browntop.
Paddock growth for 2014-15 (October - Jun)

Old pasture under pivot irrigation