Grass into Gold: Contractor already penciled in for autumn sowing
Italian and perennial ryegrass will be direct drilled very soon on Kathy Craw and Logan Bowler's Marton farm as they aim to repeat the success of early sowing last autumn.
"Getting the grass in early made a huge difference last year, so we've already tentatively booked the contractor for late February/early March," Kathy says. They'll start with Tabu direct drilled grass to grass on some paddocks which are looking the worse for wear after another dry summer, and that will be followed by perennials on the first of their grazed turnip paddocks.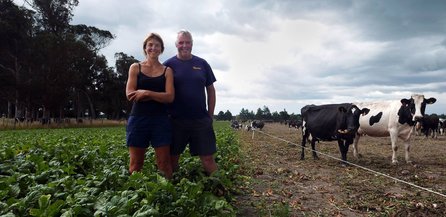 In all there is 11 ha of cropping land to renew, and when this is combined with the Tabu paddocks, that will be the maximum amount of new grass to care for during what can be wet and damaging winters, Kathy says.
"We don't want any more than that. We winter the cows on, and it's too much of a risk – we get too wet here."
Currently she's milking 207 cows twice a day with a planned switch to 16 hour milkings in the next week. Production held well through January at 1.6 kg MS/cow/day but slumped to 1.43 kg with the recent onset of hot weather.
The cows are eating 5 kg DM/cow/day turnips, 2 kg DM palm kernel, 2-3 kg baleage and approximately 5 kg grass.
Average farm pasture cover is 1800 kg DM/ha, and growth is down to 9 kg DM/ha/day.
Walking the farm in these conditions is a bit depressing, "but we're making ourselves do it at least every two or three weeks this summer," Kathy says. "Last year we didn't do it at all because nothing was growing; this year we realise we need to do it just to see what we have, and what paddocks are coping."
Feed wise the situation is better than last summer; turnip crop yields are double what they were in 2015, and Kathy and Logan haven't had to buy in grass silage because they made 150 bales of baleage in spring. Hence the decision to fix up some paddocks with Tabu prior to full renewal later in the season. "We want to get them growing a bit more through winter and next spring."
They contracted for 50 tonnes of PK and with 40 t still left to use up, decided now was the best time to feed the rest of it out.
Farm working expenses are still under $2/kg MS and will hopefully finish up under $3/kg, Kathy says, reflecting Logan's off-farm income as well her ability to do most farm work herself with minimal labour.
"I enjoy being able to manage this place myself, but we'd like to free me up a bit more next season, if we can do it without it costing too much more. We're thinking of adding 20-30 cows to the herd and hopefully that will give us enough extra production to support more labour."