Grass into Gold: 501 Chicory comes into its own in a dry summer
Brightwater, December 22: Between the coldest winter in 20 years, El Nino and the low payout it hasn't been the easiest season to start sharemilking near Nelson, but Michael and Cheryl Shearer are making the best of their new opportunity and so far, things are going okay.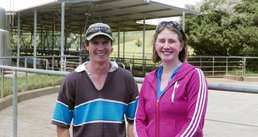 "We had four months of winter; two weeks of spring and then we hit summer about four to six weeks earlier than normal; things turned dry and windy and now we're just hoping for a nice early autumn with a bit of rain," Michael says.
About a third of the new farm is irrigated and those paddocks are still growing reasonably well, at 60 kg DM/ha/day. Dry paddocks, however, are down to 15 kg DM/ha/day, and Michael is feeding palm kernel at 4 kg/cow/day to maintain production.
Pasture currently makes up a further 10 kg/cow/day of the ration and as of this week 14 ha of 501 Chicory came into the rotation, providing 2.5 kg DM/cow/day. The cows have responded well to the crop and provided there's a bit of rain through summer, Michael says they should get up to six grazings out of it between now and mid to late March.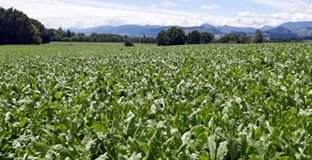 He and Cheryl peak milked 420 cows this season, and currently have 395 in milk, doing 1.5 kg MS/head/day. "We'd love to be feeding them more and doing more production, but it's just the way things are at the moment."
First calvers have been on OAD since September and are being grazed on 40ha of the steepest hills. In total about half the 160ha (eff) farm is hill. The combination of steep hill, rolling hill and flat land is a challenging one; few pastures have been renewed on the farm. Overall DM growth averages 9 tonnes DM/ha/year, with the best of the irrigated flat paddocks doing up to 12 t DM/ha/year.
Michael say that means some of the hills would only be growing 4-5 t DM/ha/year of low value browntop and cocksfoot type pasture so there is real potential to increase productivity. This topic prompted a keen debate at the Shearers' recent DairyNZ discussion group field day.
"It was brilliant," Micha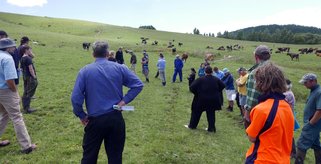 el says. "We talked a lot about regrassing strategies, what could be done with the hills and what to sow after the crop. There were heaps of good ideas, especially about how we could possibly use Italian, annual or short term ryegrass on some of the hills to grow a whole lot more feed on the farm and not have to buy so much in."
Financially, the Shearers say the low payout has put a bit of pressure on the start of their sharemilking career but at the moment they are $30,000 under budget. "We haven't cut back on any one big thing, although we are spending less on labour. It's more a matter of asking ourselves, do we need that? Can we do without it?"
What they can't do without is a good calving in spring 2016. They used AI for mating all the way through spring, doing six weeks with crossbred semen and five weeks with short gestation. Pregnancy testing won't be until early February but this programme worked 'brilliantly' last season and they're hoping for another good result.