Can you sow early in dry autumns? Yes!

In a dry autumn, are you better off to sow pasture seed early and wait for rain, or vice versa – wait for rain, then sow seed? The main question is around how well seed keeps in the soil. The very dry autumn of 2014 was a good year to test seed germination, endophyte, and establishment from early sowings.

In a replicated trial near Cambridge, Trojan perennial ryegrass with NEA2 endophyte was sown on 20 Feb, 20 Mar and 27 Apr 2014. The Feb sowing was in very dry conditions, and seed sat in the soil with no sign of germination until 45 mm of rainfall on 4 Apr (43 days/6 weeks later). Dark peat soil was chosen as this is known to become very warm. At the seed sowing depth of 2 cm, the soil temperature at 10 am on 20 Feb was 49.1°C. On 20 Mar it was 41.7°C; on 27 Apr, 27.0°C.
Key results
Seed sown early established quicker and grew more – Feb/March sowings grew 2 t DM/ha more than the Apr sowing (5.8 t versus 3.8 t), measured over 5 grazings from May to Oct. Using the Forage Value Index figure of 38c/kg DM, that's $760/ha of valuable winter feed.
Endophyte levels were not affected by early sowing – these were the same for all sowing dates.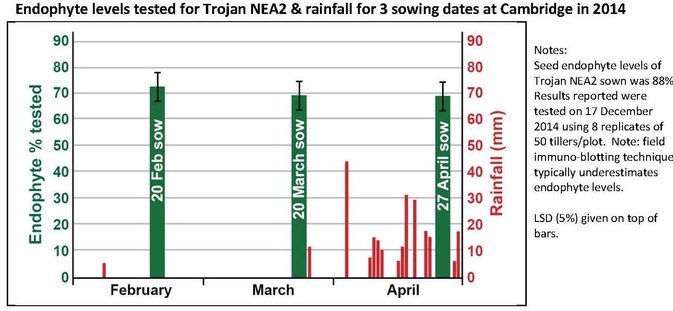 Take home message:
Sowing early (from 20 Feb) in dry conditions with TREATED SEED is easier for contractors, means faster establishment, more yield, and sets up better pasture persistence. Trojan NEA2 seed can keep well in the soil for 6 weeks without significant rain.