National forage variety trial (NFVT) system
A co-operative system for testing pasture cultivars, involving Agricom, Agriseeds, Cropmark, DLF, PGG Wrightson Seeds, Seed Force and Grasslanz.
The NFVT® system provides reliable data. It has run over 100 trials since 1991.
Also refer to the AYT trial system a parallel system with trials run to the same standards.
Trial system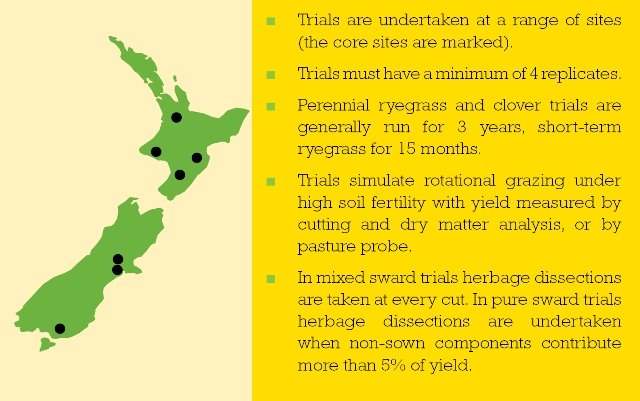 Important points
The trials in these summaries were carried out at a limited number of sites using specified management regimes and cannot represent every situation.
Trials do not measure animal performance.
Trial presentation
The statistical variation or reliability of cultivar yield is shown by the black 'H' shaped error bar on the right hand end of the green yield bar. A wider 'H' means less reliability (possibly due to the cultivar being in fewer trials or more variable in yield). In comparing cultivars, those whose error bars do not overlap are not significantly different from each other, at the 95% confidence level.
Within each period the average DM yield of each cultivar is recorded as where the green bar ends.
To be presented, cultivars must have been in a minimum of 3 trials for that region.
NFVT® is a registered trademark of New Zealand Plant Breeding & Research Association Inc.