Renewing paddocks which have poor growth or high weed content can give high financial returns. In this example we have used top end renewal costs ($1115/ha), but this still returns $5715/ha in profit over 5 years. Few other investments can match this.
Typical costs of renewal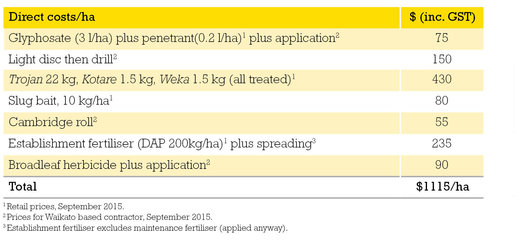 Typical benefit of renewal over 5 years
The benefit of renewal is in the table below, based on assumptions:
5 t DM/ha production increase
Based on DairyNZ FVI annual production weighted economic values for profit in a dairy farm system based on extra pasture yield (Upper South Island $0.33; Lower South Island $0.31; Upper North Island $0.37; Lower North Island $0.34. We have used a figure of $0.33/kg DM which is an average taken from the four regions). Source: DairyNZ FVI, September 2015.
10% drop in additional annual pasture production, each
1500 kg DM/ha reduced yield in the year of renewal due to time out of