Benefit of correct cultivar
Sowing cheap seed, or seed of questionable origin, risks large losses in profit. In this example it saves $272/ha at sowing, but $4391/ha in income is lost over five years.
Dairy farm example
This example compares sowing the high quality perennial ryegrass Trojan with NEA2
endophyte (AGRICOTE treated), versus Nui seed, over a five year period.
We have assumed Trojan NEA2 produces an additional 3 t DM/ha per year above Nui which is conservative based on current trial information, and does not include the advantage of NEA2 endophyte.. Nor does it account for the better feed value (ME) and seasonal growth pattern of Trojan. Annually, production is estimated to drop 5%; this can vary between farm systems. Nui would most likely have a greater annual production drop due to its poor persistence.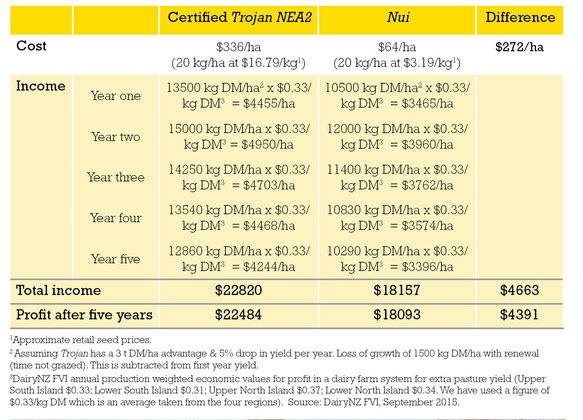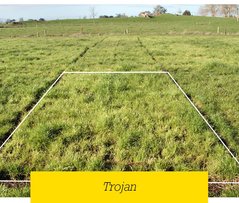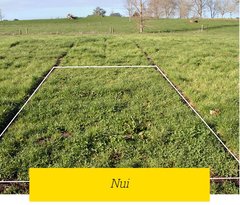 Trojan (left), showing much better persistence than Nui (right) under dairy grazing in Ohaupo, Waikato. What you can see in the Nui photo are largely weeds and clover. Both plots were managed identically, and sown 24th April 2009. The photos were taken July 2010. Most Nui seed has no endophyte.