Tabu is nutritious, has explosive establishment speed, exceptional winter and early spring growth and produces high year round growth.
Multi-use
Tabu is suitable as a winter crop, a 2-3 year pasture in areas with mild summers, or for undersowing into run out pasture to boost winter-spring growth. In dense pastures spraying before drilling is recommended.
High DM yield
Tabu is in the top ranking for Italian ryegrass in both the National Forage Variety Trials (NFVT) and DairyNZ Forage Value Index (FVI). It is only outyielded by Shogun NEA hybrid ryegrass.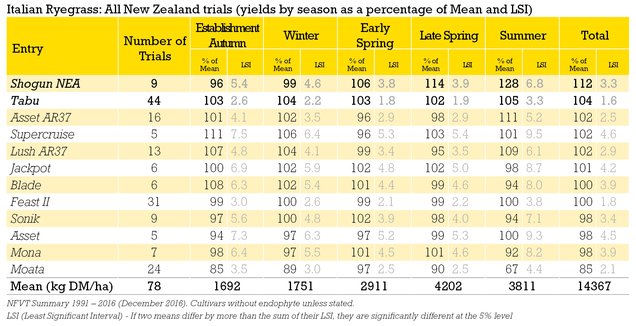 High animal performance
Tabu provides high levels of animal performance. In winter lamb finishing trials at AgResearch in Hawke's Bay, lambs on Tabu grew at 316 g/day, with a stocking rate of 48 lambs/ha. On a per hectare basis, Tabu averaged 15.2 kg liveweight gain/day.
Sowing Tabu