Shogun has created a new position in the market, taking hybrid ryegrass to a new level. Winter growth is equal to many Italian ryegrasses, and Shogun outyields many perennials during summer and autumn. Persistence is excellent for a hybrid, and it has its own endophyte for insect protection.
Shogun redefines ryegrass categories

High yield
In trials Shogun has significantly out-yielded other hybrid cultivars. As well as excellent cool season growth, it has exceptional summer and autumn yield.

Fast establishment
Shogun's fast establishment is comparable to that of an Italian ryegrass. This allows paddocks resown with Shogun to be brought back into the grazing rotation more quickly than those renewed with perennial or other hybrid ryegrasses.
Black beetle control 2-5 year option
Shogun with NEA endophyte has good control of black beetle, equal to Bealey (3 stars).
Under good grazing management Shogun is a 2-3 year option in summer dry areas, 3-5 years in summer moist. Persistence is aided by its NEA endophyte.
Feed quality
Shogun has excellent summer quality, with a very late heading date (+26 days) and little aftermath heading (AMH) or seeding through the summer.
Palatability
When sheep or cattle like a pasture, they eat more of it, and liveweight gains (LWG) increase accordingly. Shogun has shown itself to be a very palatable tetraploid hybrid ryegrass that will deliver high animal intakes and growth rates.
Persistence
For a hybrid ryegrass Shogun has shown excellent persistence, demonstrated in the ryegrass ground cover results below. Part of the reason is its natural NEA endophyte, which limits insect damage.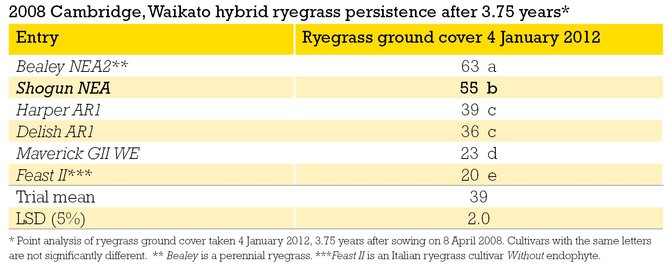 Sowing Shogun